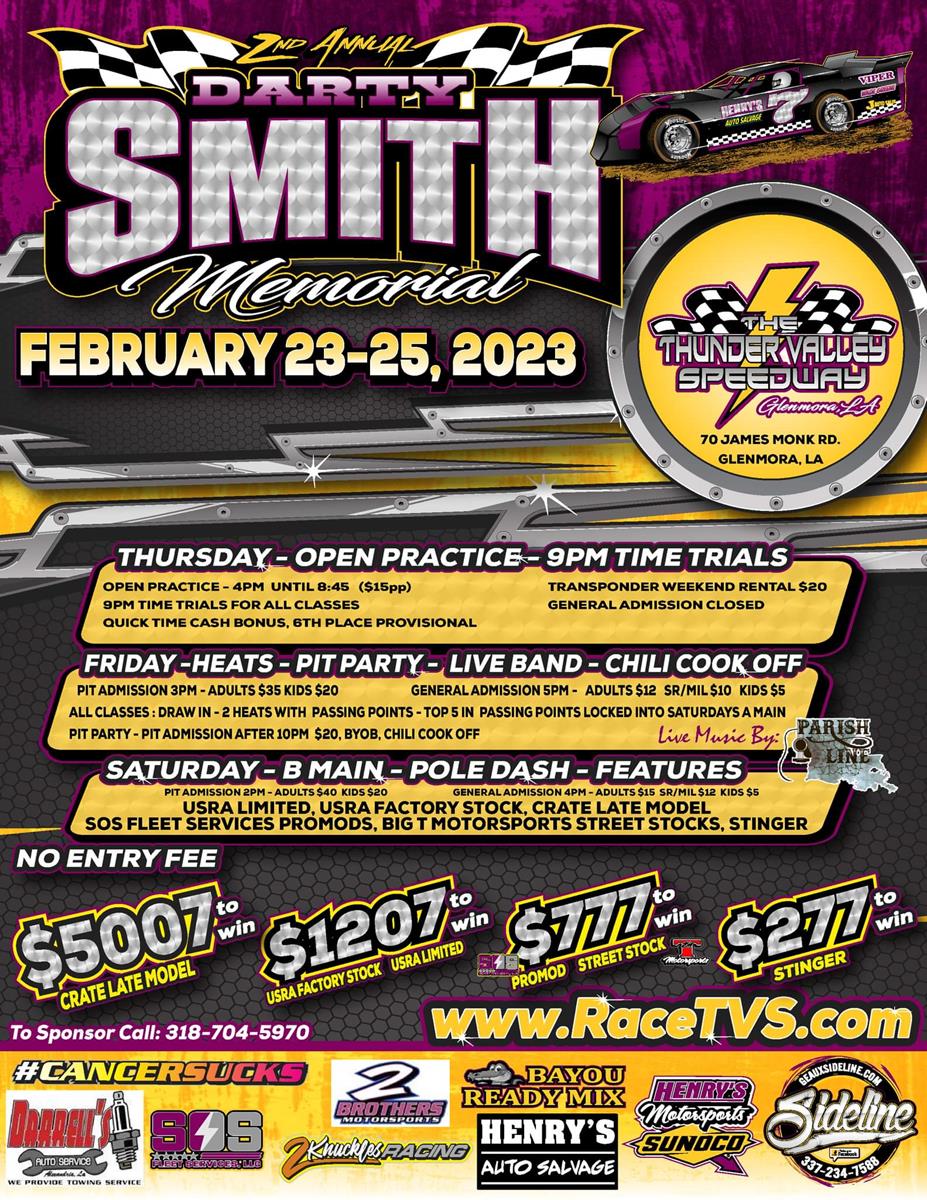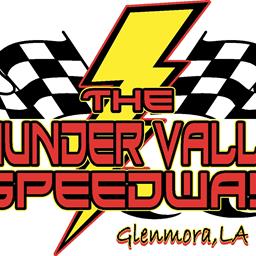 1/15/2023
Thunder Valley Speedway (LA)
---
2nd Annual Darty Smith Memorial Payout Released
2nd Annual Darty Smith Memorial
Updated Flyer Coming Soon to reflect NEW CRATE PAYOUT
$5,007 to win Crate Late Model HUGE Thanks to ELE Construction and L Fontenot Trucking.
$1,207 USRA Limited Modified and USRA Factory Stocks
$777 to win Big T Motorsports Street Stock and SOS Fleet Services Promod, $277 to win Stinger
NO ENTRY FEE all classes
Speedway rules can be found here: https://www.racetvs.com/rules
The Crate Late Models always put on a show that is action packed and keeps you on the edge of your seat, so thanks to ELE Construction and L Fontenot Trucking they will be challenging each other for $5,007 to WIN, $2,200 for 2nd, $1,100 for 3rd, paying $100 to start A Feature!
The USRA Limited Modifieds, USRA Factory Stocks will be in competition chasing $1,207 To-Win, $100 To-Start A Feature, No Entry fee!! USRA classes must purchase a license to compete. (License can be purchased here: https://www.myracepass.com/sanctions/1003/registrations/6681 . Drivers may call (515) 832-6000 to register by phone)
Big T Motorsports Street Stocks and SOS Fleet Services Pro Mods will be competing for $777 To-Win!
The Stingers will be in competition for $277 To-Win, TVS stinger rules apply and can be found at https://www.racetvs.com/rules
Westhold Transponders are required in all classes. Rentals are available for $20. Transponders can be purchased feom JCR Components, 318-704-5970.
Thursday
4PM - Practice. Pit Admission $15 per person. General Admission closed.
9PM - Time Trials all classes awarding Fast Time with a Cash Bonus and 6th Place A Main Provisional.
This is the only night for hot laps.
Friday
3PM - Pit Admission Adults $35, Kids $20
5PM - General Admission Adult $12, Seniors/Military $10, Kids $5.
All classes will draw in for heat races. We will run two heat races in each class on passing points, locking in the top 5 to Saturday's A Main race.
10PM - PIT PARTY only Admission $20, BYOB
Live Band "Parish Line"
Chili Cook Off
All pit pass holders can stay for the PIT PARTY at no additional charge. Everyone is encouraged to enter the chili cook off. You will cook at your pit and turn in your entry to our judges at the line up board 1 hour after heat races end. An announcement will be made. The winner of the Cook Off will get a cash bonus, an award, and a complimentary pit pass for two for Saturday. The runner up will get a cash bonus and a complimentary pit pass for Saturday.
Saturday
2PM - Pit Admission Adult $40, Kids $20
4PM - General admission Adult $15, $12 for Sr/Military, Kids $5
All B features and A Feature races will be held on Saturday. Pole Dash for Top 5.
BONUS MONEY
Lap Sponsors ($20 per lap to the lap leader)
7th Lap, 7th Place All Classes $20 - By 2Knuckles Racing, #CancerSucks
Last Lap Leader $20 Factory Stock - By 2Brothers Motorsports
7th Place Finisher all classes $100 Bonus - By the Darty Smith Family (Melissa, Lauren and Cortland)
In addition to the event, we are hosting a 50/50 raffle with amazing prizes. Tickets will be available at the event for $1 each or 6 for $5.
General admission parking is complimentary, located directly in front of our facility. We have 3 camping spots with full hookups located on our general admission area, reservations are required. Camping for these full hookup spots are $30/night.
We look forward to seeing you for the 2nd Annual Darty Smith Memorial. Event Shirts are on sale, Must PreOrder. Can pick up at event or have shipped to you. Buy PreOrder Shirt Here https://www.geauxsideline.com/dsm2023
THANK YOU TO OUR SPONSORS FOR MAKING THIS EVENT POSSIBLE:
Darty Smith Family
Big T Motorsports
2KnucklesRacing #CancerSucks
2Brothers Motorsports
L Fontenot Trucking
Darrells Auto Service
ELE Construction
Information is subject to change.
---
Submitted By: Tiffany Welch
Back to News