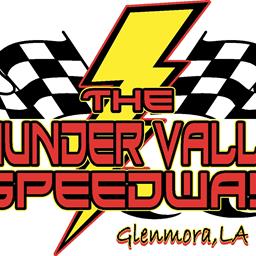 12/26/2022
Thunder Valley Speedway (LA)
---
Oakdale Car Show and Swap Meet
FOR IMMEDIATE RELEASE
Oakdale, La - Feb 18th, 2023 - The Thunder Valley Speedway is excited to announce the upcoming car show happening at Richards Tire Service Parking Lot on February 18th, 2023.
This car show will feature a variety of vehicles, from classic cars to modern marvels and Thunder Valleys local race cars. There will also be food trucks, vendors, DJ Crazy Mandy, a kids Power Wheels race, a Remote Control Car Race and a swap meet. This is the perfect opportunity for car enthusiasts to show off their prized rides and meet like-minded people in the area. You can register your ride early for the event here (No entry fee, donations welcome): https://forms.gle/z1WG25rexHcernsq5
Swap Meet setup will begin at 7am. Come buy, sell and trade your items. There is no fee for the swap meet.
Car Show registration begins at 9am with an award presentation at 1pm. There is no registration fee for this event, however donations for The Thunder Valley Speedway drivers fund are welcome.
The food trucks will be serving up delicious cuisine, from burgers to tacos, gourmet coffee to hot chocolate all starting at 9am.
DJ Crazy Mandy will be playing all of the best hits to keep you entertained.
Beginning at 10AM a Remote Control Car Race will kick off. Participants can enter for just $5, payback is 100% between 1st-3rd place winners.
At 11Am a Kids Power Wheels Race will take place, $5 entry fee, with 100% payback to 1st-3rd.
Awards will be presented at 1pm for:
Best Classic
Best Stock Appearing
Best Themed
Best Work In Progress
Cleanest Ride
Kids Favorite
50/50 Tickets will be benefitting Fish Upon A Star 501C organization in Woodworth, La. Prizes will be drawn throughout the event, with the big cash prize being drawn at 1pm during the awards. This organization hosts an annual bass fishing tournament at Indian Creek in Woodworth, Louisiana for a local child that has some sort of terminal Illness or a disease process that has altered a child's life. They send this child and his/her family on an all expense paid for vacation of his/her choice within the United States. The foundation pays for it , plans it and sends them on their way ! The families have to do nothing. Just pack a bag! This years recipient is 14yo Jack Brown from Deville, La. Tickets are $1 each or 6 for $5.
The LifeShare Blood Center - Alexandria will be on site accepting blood donations too. Every donor will get a complimentary t-shirt.
Our vendor line up includes:
DJ Crazy Mandy with all the hits
MeMes Food Truck & Sno Cones
Caffeinated / Brew + Fizz
Kathy's Kitchen & Catering, LLC
Dani Girls' Closet LLC
Uniquely Mae'd
AB Creations
Neon Moon Creations
Plunder Girls
Southern Freaks & Co.
Scent With Love
A little something Xxtra
Bungee Mania, LLC
Mudd Stuff
Face Painting by Tamra
If you're looking for something fun to do, then come to The Richards Tire Service Center in Oakdale, La directly behind O'Reillys, for the car show on February 18th. It's sure to be a great time for everyone!
For more information about the event, please contact:
Tiffany (318) 704-5970
FB Event Info: https://fb.me/e/23cau6651
Back to News